Want to attract more candidates? Configure your EZ App 2.0 landing page to show off the highlights of your company.
From the "Navigation Toolbar," Go to "Configuration" and "Jobs Board Manager" and then "Landing Page."
Then, a pop-up menu will appear. Review the selections, and then begin to customize your page.
If you select "Yes" for the creation of tags for the selections you see regarding years of experience, solo/team, company/owner operator and equipment experience, those responses from the candidate will pull into the user profile after they complete the EZ App 2.0!
For Example, see the tags on the candidate who applied using EZApp 2.0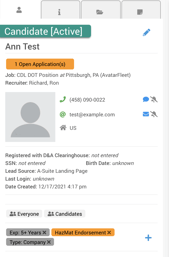 Next, under "Insert," you can add in your company logo as an image and add any media clips or links that you feel would make YOU an attractive candidate to a potential driver! Not sure how to add a media clip or image? View this KB.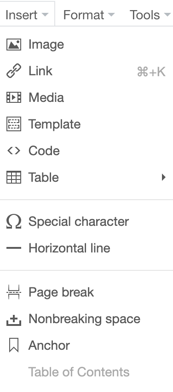 Once you have completed your customization, select "Save" and you have completed the process. To view your completed EZApp 2.0 landing page, go to your A-Suite URL and add ssr/apply to the ending. For example: youravatarfleeturl.com/ssr/apply