By adding a small amount of code to your website, prospective employees can submit their information without leaving your page.
To make it as easy as possible for your potential candidates to move forward in the application process, A-Suite lets you add a lead generation form to your own website that can directly connect to add leads to your A-Suite account.
To do so, have your the person in charge of your website add this line of code to the page where you want the lead form to appear:
<script src="https://(your company name here).avatarfleet.com/lead_gen/dynamic.js" id="asuite"></script>
Entering this line of code will cause the form shown below to appear on your website.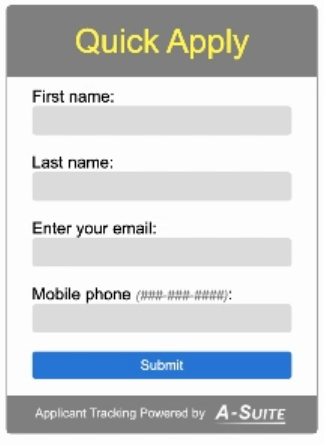 After submitting the first screen, the candidate will fill out two other pages of forms. These will help determine who their candidate persona in A-Suite is assigned to.