EZApp was designed to help decrease application fatigue, engage the driver and give you access to qualified candidates faster. With EZApp, the answers the applicant provides during the "EZ" process are populated as tags on the user's profile.
This allows your recruiters to get a quick visual in order to easily weed out candidates that don't meet your standards, or place those that do meet your standards at the forefront of your candidate pool quickly and easily.
No need to sift through pages of data!
The Candidate Experience
Step 1: General Information and Endorsement Information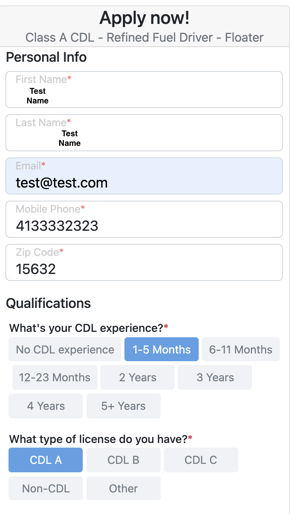 Note: The endorsement options and equipment experience options for Non-CDL as well as CDL drivers
The asterisks by all of the "Qualification" questions. The candidate cannot skip over these questions. In fact, the answers to these questions will be populated as Tags on the User's Profile!
There will no longer be any need to sift through notes, instead these qualifications will be placed in a prominent position to allow your recruiters to get a quick visual to easily weed out candidates or place them at the forefront of your candidate pool.
Step 2 : The Candidate Defines His/Her Desired Position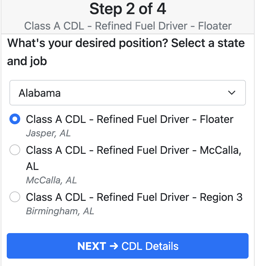 Step 3: License Details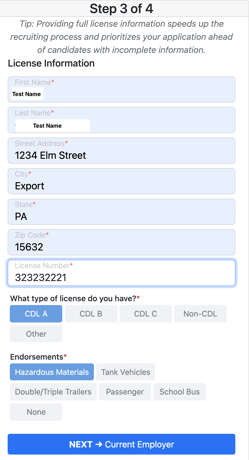 The last screen that your candidate will see after submitting his/her application is shown below. They can opt to send a comment, and they will see a name, email and number of a company contact.
The Candidate will find an email similar to the example copied below in their inbox after submitting the EZApp, prompting them to get started on the full application:
The email will prompt them to get started with next steps, and make them aware that they will need to create a password upon clicking the link. Voila!
The Recruiter's Experience:
After the applicant submits his or her application, the information is automatically pulled in your A-Suite.
Note the Tags!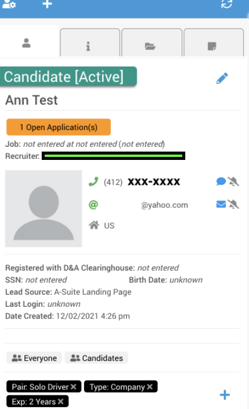 In the additional information section on the user profile, the licensing information is populated:
The recruiters are presented with the basic information that they can use to make data driven decisions without sifting through page upon page of information. The recruiters can also sort and filter according to the tags in the candidate view in order to prioritize candidates.
The jobs will come through clearly defined. If an applicant applied for a driver position in Cleveland, Ohio, they will be able to be found in the system as such.
EZ App is making the candidate's experience smooth and providing more robust details to recruiters.