The Unassociated Files tool is a very useful feature that can help make record creation and management fast and easy.
The Unassociated Files feature is located within a user's profile, on the left side panel.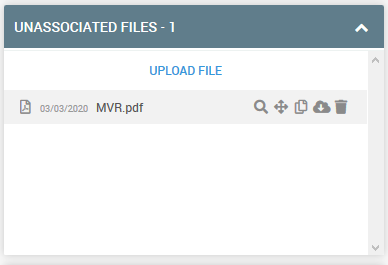 Uploading Files
To upload a file to your Unassociated Files, you can click "Upload File", or drag and drop files from your computer anywhere into the panel. When you use the drag and drop method, you are able to upload multiple files, but clicking "Upload File" only allows one file at a time.
Drag-And-Drop To Resolve Missing Records
If a user has records that are missing from their profile, you will see a number in the Missing Records tab that is located directly above Unassociated Files. To resolve a missing record, simply upload the record to Unassociated Files, and drag and drop the file onto the missing record listing.
Select an expiration date and then click "Create New", and your missing record will be resolved.
Complete a Recruiting Task
You can also use Unassociated Files to complete recruiting tasks for candidate applications.
To start, navigate to the intended application using one of the Recruit Views or the Candidate Browser.
To complete a recruiting task, upload a file to a candidate's "Unassociated Files" tab, and then drag and drop the file directly onto the recruiting task to complete it. A dialog box will open asking for an expiration date. Enter a date if desired. This can be added later by editing the record.
Now, click "Yes, Finalize," and the task will be completed and the corresponding record will be created.