Getting Started with A-Suite
The Create Button
One of the new features that was introduced with the redesign of the Navigation Menu is the Create button. This button is located in the top-right area of the A-Suite screen, and is used to create Candidates, Users, and Recruiting Links.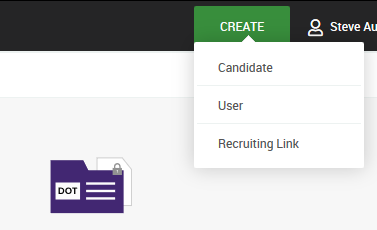 To use the button, click it, and choose your desired action from the dropdown menu.
For more on each action, view the article on Manually Creating a New User, Manually Creating a New Candidate, and the Recruiting Link Creator.