Here is a summary of A-Suite's Navigation Menu.
This article will outline some common questions to help you become acclimated to the updated Navigation Menu.
Before You Start...
Navigation Menu Defined:
The Navigation Menu is the side panel in your A-Suite account where you access your tools, pages, and settings within the A-Suite.
Why are we making these changes?
It's our goal to make using our platform as simple as possible for you as the end user. Many of our clients perform the same tasks weekly, if not daily, within A-Suite, so we wanted to take the time to optimize the key functions of the platform to make your workflow quick and easy.
We recognize that this update might slow your workflow down temporarily, but over time we see this as a huge time-saver that will enable you to do more with less clicks within the software.
🗂️ The Navigation Menu
What does the updated Navigation Menu look like?
You'll see in the image below that the Navigation Menu has been reduced from 8 items to 7 items.
A Place to Navigate to - Not Perform Actions
We recognized that our clients needed a quick way to perform basic functions for their workflow. So, rather than continuing to add those items to the side Navigation Panel, we decided to house those items within the specific place they were designed to be performed from.
"You'll no longer use the Navigation Menu to perform specific actions like Sending a User and Email, or Create a Company. Instead, you'll use it to find the place where you can perform the action you desire."
So for example, rather than using the Navigation Menu to perform the action of Emailing a User, you'll now use it to navigate to the User Profile, where you'll use the Actions Panel to send an Email.
Browse in One Place
In the old Navigation Menu, the action of browsing Records, Employees, Candidates and Applications was scattered across multiple dropdown folders.
Now, you'll see that you can easily select which item you'd like to take an in-depth look at from one location, versus using different dropdown menu items.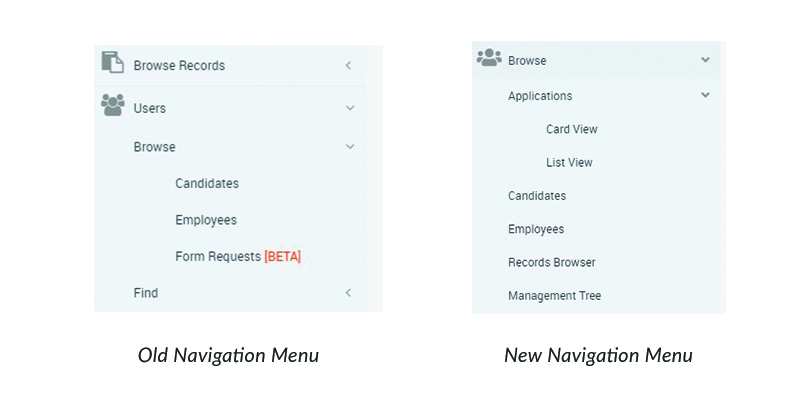 What is being removed from the Navigation Menu?
There are four things that have been removed from your Navigation menu: Advanced Search, Create New User/New Candidate, Transfer Locations or Managers, and Messaging. These functions are still accessible in other areas of A-Suite.
1. Advanced Search
We currently offer three options for you to access your Advanced Search option.
Magnifying glass on Black bar
Inside the search bar
Nav menu > Users > Find > Advanced Search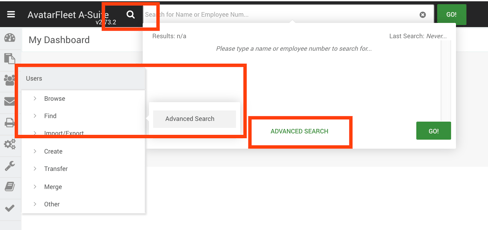 We have taken away the third option. The other two options are still available.
2. Create New User or New Candidate
To create a new user or candidate in the system, you currently have to navigate to
Users > Create > New User/New Candidate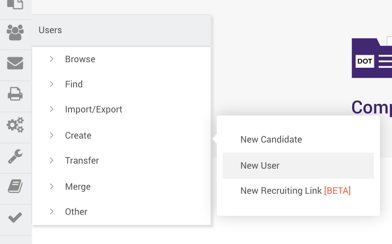 This option has been removed from the Navigation Menu.
We have added a new CREATE button at the top of your screen that can be used to create new users, candidates, recruiting links, and to-dos.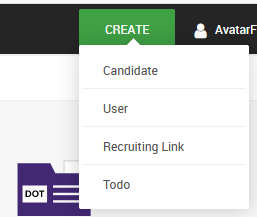 3. Transfer Locations or Managers: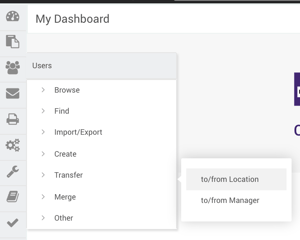 We currently offer two ways that you can transfer employees to/from Locations and to/from Managers. First being in your Navigation Menu.
Users > Transfer > to/from Location or to/from Manager
This has been removed from your navigation menu.
Transfers now can be completed by going to your employee browser, creating a Task List, and choosing Transfer Locations or Managers.

4. Messaging
Your messaging option inside your Navigation menu has been removed. Messages are now sent primarily from the user profile.