How to update a Record Version using the Drag and Drop File Import option.
Overview Video:
As records go out of date or expire, it is necessary to update them within A-Suite. To do this, start by navigating to the user's profile to view their records.
Open the record that you want to add a new version to by double-clicking it.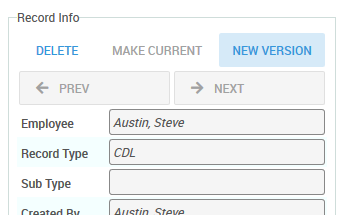 Click the "New Version" button under Record Info.
In the dialog box that opens, select your updated expiration date from the dropdown calendar, and then click "Create New".
Next, upload the updated file by dragging and dropping it into the designated area, or by clicking "Upload Attachments".
Once your file is uploaded, you are all finished. You can cycle through versions by clicking the "Previous" and "Next" buttons.