Pre-select a record type in the File Uploader in your Hiring Workflow builder to auto-categorize files as records in a User's Profile.
We've improved our Upload File widget in Workflows so you no longer have to categorize every uploaded record from the Unassociated Files menu.
How Does it Work?
In Workflows, just set the Record Type when you're creating the "Upload File" widget, and now, every time a record is uploaded (whether was by the recruiter or the candidate), the file auto-categorizes as your pre-selected record type.
No more dragging and dropping files from your Unassociated Files folder into the right record type.
This will save you countless hours sorting and mapping an unknown record type to the accurate record in a Candidate or Team Member's profile!
A sample of the new widget is found below. In this instance, the recruiter is selected as the person uploading the file. The task is named, the text display is set.
Don't forget to add an Output Record Type!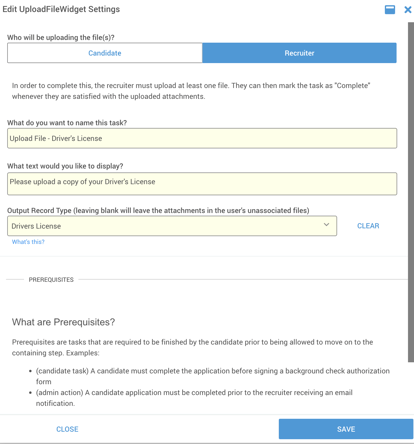 Now in the workflow, when the recruiter is presented with this task, he or she is able to upload the corresponding document and create a record automatically.