A guide to setting up Referral Sources, and how to use them to guide your digital recruiting campaigns.
In A-Suite Recruit, you have the ability to set up and measure specific Referral Sources for a candidate when he or she applies for an open position.
A Referral Source is simply the original medium from which a recruit found your position and eventually applied through.
Sources like Facebook, Linked-In, Recruiting.com and more all would be examples of Referral Sources applicable for a candidate, as seen in their User Profile.
Here's how to set up your Referral Sources in your A-Suite Recruit account.
Setting Up Your Referral Sources
To set up a Referral Source, hover over to the side navigation bar to Configuration, Recruit, and click Referral Sources.
You'll now see either a blank screen, or, a list of pre-existing Referral Sources in your menu. To add a new source, click "Add New Referral Source."

Type in the Name of your source and now your Referral Source will be saved for later use.
Referral sources must be created so you are able to link them to your advertisers later.
Step 3: Configure your advertisers
You can find all current advertiser configurations inside of your A-Suite account.

Inside your "Configure Advertisers" screen, you will see a full list of all possible advertisers.
Name of advertiser
Type of integration

Has Feed - A-Suite send XML feed to the advertiser
Posts Leads - Advertiser sends lead information to A-Suite
Pickup Leads - A-Suite pulls from the advertiser

Active or Inactive advertiser
Media Source - linked media source
Last pull - Last time the feed was pulled from the advertiser
*To edit or configure any of the advertisers. Double click on the advertiser to open
Inside an advertiser configuration: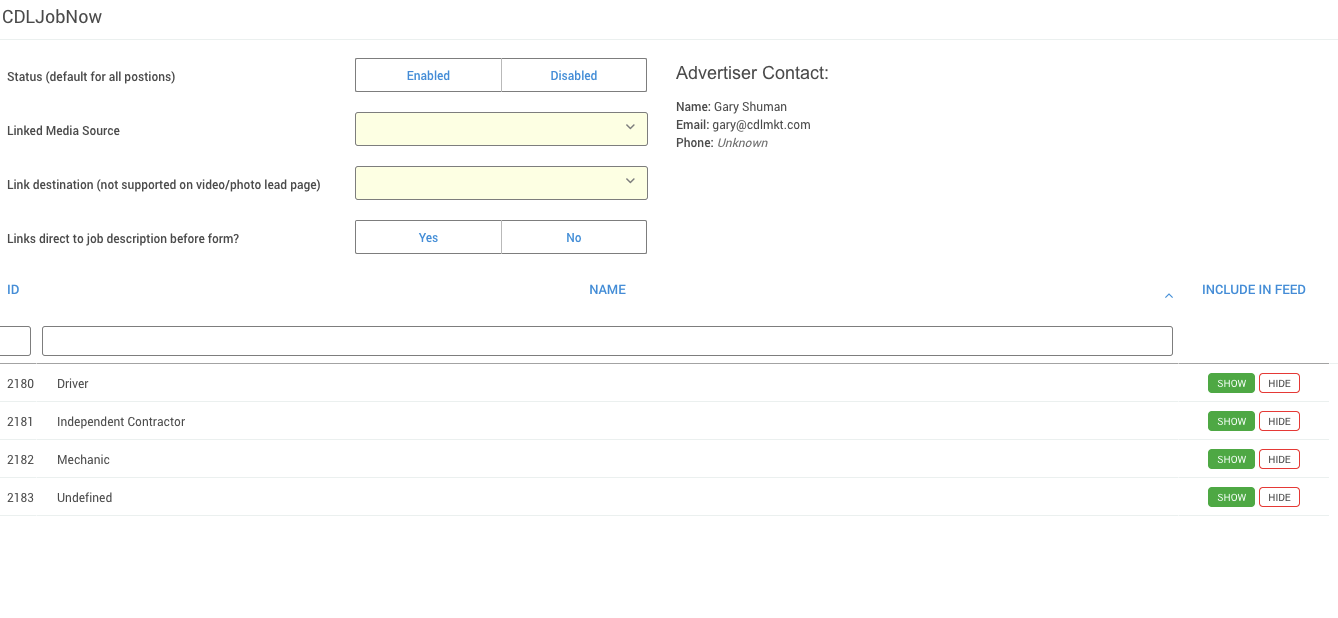 Enable or Disable your advertiser
Choose your linked Media Source (must match the advertiser you are configuring)
Choose your link destination
Direct lead to job description before link destination
The bottom section of your advertiser configuration screen offers you an easy way to "Show" or "Hide" your positions on this advertiser.
Step 4: Configuring advertisers inside your positions and openings
Inside your positions, you will see 3 drop-down areas where you can configure advertiser information directly inside the positions.
Advertising Info:
Advertiser name: This allows you to set a custom advertised name for the position that is different than then name within A-Suite.
All other fields inside this section are used for only a select few advertisers. (CS to update when new ones come available)
Indeed- USE HOURLY OR YEARLY FOR SALARY FIELD ONLY and no reference to anything salary related in job description, will break feed for that position or opening
Advertiser Configuration:
List of all advertisers available inside your A-Suite with the option to view the configuration and additional options to Enable or Disable your positions from showing on each advertiser.
*If an advertiser is Enabled inside the position, but not configured (Step 3), these will not show on that advertiser.
Qualifications:
Additional information regarding qualifications for the position is available to add to your advertiser feed.
This section is also only used by the following advertisers: