To access candidates assigned to you, you can either start directly from the Recruit Dashboard:

OR, you can start from the Navigation Toolbar > Home > A-Suite Recruit and make your selection of either List View or Card View.
If you select List View, you will see a screen like the one below:

Make sure to toggle to Mine, and Active in the upper right hand corner of the A-Suite screen. A list of all candidates assigned to you will be found below.
From these display screens, you will be able to filter and sort and or filter your data according to the column headings shown.
A selection of Card View will have similar toggles, but the candidates data will be displayed in a card-like display, as shown below: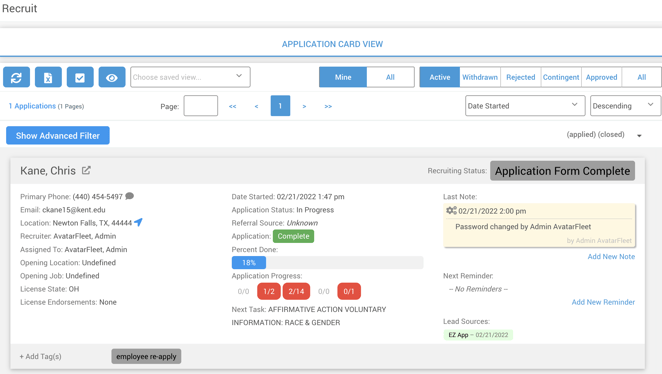 You can filter through the Show Advanced Filter button in the left hand corner of the screen.
Once you find the candidate that you are going to engage with, click into the line in the list view, or the card in card view to see the candidates details and workflow.