Tailor your A-Suite to show the data that is most important to you using saved views.
Saved Views are a great way to tailor A-Suite to show exactly the information you need to see and filter out the rest. Saved views are available in the Candidate Browser, Team Member Browser, Records Browser and in all five categories of the Compliance Dashboard. In this article, we will review:
1. How to Create A Saved View
2. How to Access A Saved View
3. How to Edit A Saved View
4. How to Delete A Saved View
1. Creating A Saved View
To create a new saved view, navigate to the browser of your choice. Next, customize your view by taking any of the following steps:
Click on the individual filter icons by the column headers and filter the data you want to see


Reorder columns by clicking on and dragging your columns left or right
Hide or bring in to view data columns by clicking into a column header and selecting the columns that are shown and hidden from the drop down menu.


Next, save the view that you have created by clicking the Saved Views icon at the top of the page.

Then, click into Add New View.

The dialog box that opens will prompt you to give your Saved View a name. Select Save.

2. Accessing A Saved View
To load a saved view in one of your Browsers, navigate to the browser where it was created. In the top portion of your screen, select the Saved Views icon. A drop down menu will appear that will show all of your saved views. Select your view from the list and click it.

Now, all your columns, filters, and sort preferences will be loaded.
3. Editing a Saved View
Access the saved views you want to edit. Filter and sort as you see fit, then select Update the Current Saved View icon and your view will be updated.
4. Deleting a Saved View Permanently
Need to delete a saved view permanently?
Navigate to the upper right side of your A-Suite, where you see your name: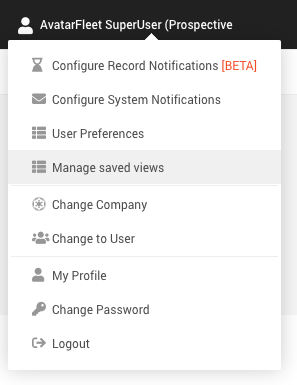 Right click on your name, and scroll down to "Manage Saved Views." From there, you will see this screen where all of your saved views are housed:

If you wish to delete a view, navigate towards the trash icon and right click. The system will ask if you want to delete. Select "OK."