This is a video overview of the different items in the profile of an Employee/Driver/User
The User Profile page is where you'll find all information relating to a specific user in your A-Suite account. Profiles are divided into two panels: The left panel that contains basic user information and correspondence, and the right (main) panel that shows records, applications, and other details.

Left Panel
On the left side of your screen, you'll see a list of dropdown panels starting with your User's Contact Information.
Here, you'll see all of your recorded data about the User, including their address, phone number or employee identification number. You'll also see if there are any Red Flags with his or her profile, like missing or expiring records.
There are five action buttons underneath the user information area where you can
Edit profile information,
View and send text messages to the user,
Send an email to the user or the user's manager,
Create new items (applications, form requests, notes, records, and to-do's), or
Edit the user's settings.

Below that, you'll find the All Requirements panel, which indicates all required documents assigned to your User's Job.
Under All Requirements, you'll see a dropdown panel of Missing Records. These are the same missing records that are highlighted in the Contact Panel, but here you'll have the option to create a new Record for that specific type.
After that, you'll see an Unassociated Files panel. Unassociated Files are any file or document that haven't been organized into a Record type for your User.
Then you'll see the Notes dropdown panel under that. The Notes panel is a log of all changes, updates and customizable notes you've taken on a driver displayed in chronological order at the time of the action.
Beneath Notes is the Email Messages panel. This is where you will see all of your email communications you have had with your User.
Finally, the Background Check Panel is the place where you'll be able to order background screening products when Integrated with a your provider.
The entire left panel is collapsible so that you can view the main window in a larger area. To collapse the left panel, click the arrow in the top right corner: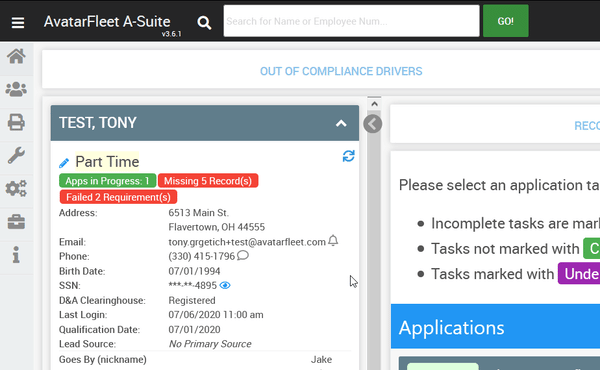 Right Panel
On the right side of the User Profile, you will see more details specific to the user. If the user is a candidate, you will see two tabs: Records and Applications. If the user is an employee, you will only see the Records Tab.
Candidate Main Panel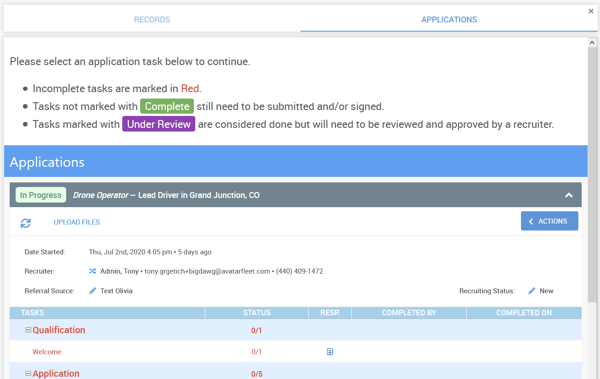 Employee Main Panel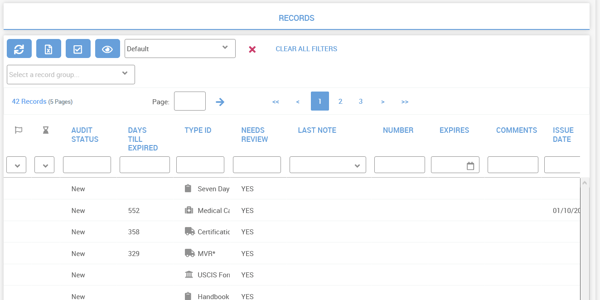 A Record is any document or file associated with your User.
These will include Recruiting documents, like an Application, Background Check or Interview Document; New Hire Paperwork, and Driver Qualification Files.
Each time you open a New Record in your User's Records Browser, it will open up a tab so you can shuffle from one Record to the other without opening and closing additional tabs.
At the top of your screen, you'll see the list of User Profiles you currently have open. You can open as many Users as you'd like, just remember to click the Dropdown toggle to find one that may not be currently on screen.