Read about Forms, formerly Recruiting Tasks, are actions that the prospect and recruiter complete in the process of finishing a job application.
In A-Suite, Forms are any action that is completed by a prospect (or the prospect's recruiter) during the completion of an application. Previous to December 2020, Forms were known as Recruiting Tasks; they have been renamed to Forms to better reflect their function.
A related feature, Form Requests, are specific communications directed to a user asking them to provide information or a document. For more on Form Requests, visit our Form Requests article.
The Forms page can be found by hovering over Configuration and clicking "Forms."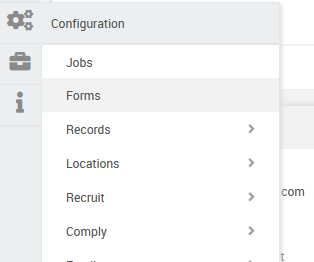 You can create a new form by clicking the "Add New Form" button, or click an existing Form from the list.
The Forms Browser
Within the Forms browser, you can see information about your forms, including whose responsibility each form is, the Record Type it generates, and who created the Form.
You can also click the Information button to the left of the Form name to see where a particular Form is used, and if there are any outstanding Form Requests for the form in question.
Creating/Editing Forms
The Form dialog box contains several selections to make. First, you can load a template if you would like. These templates are created by AvatarFleet and are not configurable.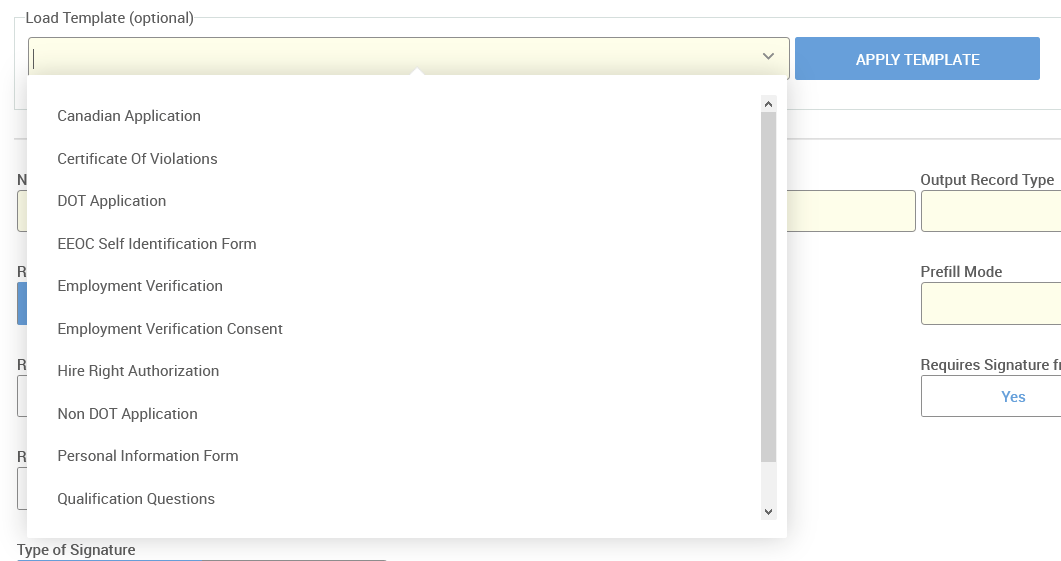 Give your Form a name, and choose the Output Record Type to determine which record is created upon completion of the Form. These two fields are required, and must be filled out before saving.
Next, choose the Responsible Party; this can be the Prospect (the applicant), the Assigned Team Member (recruiter) or Both.
In the Prefill Mode dropdown menu, choose if you want to prefill fields with information that you have already collected elsewhere in the application process, or information that is already stored within A-Suite. You also have the option to defer to the Widget Settings, meaning if the widget is set to pre-fill information, then your Form will do the same.
For the signature, you can opt to have the signers type their names in a fancy font, or have them use their mouse or phone touch screen to sign their name manually.
Finally, you will set your Visibility Limit. If you are creating a Form that the applicant does not need to fill out or complete, you can opt for them to not even see the Form in order to avoid confusion during the application process.
Now that the top fields are complete, you will create your Steps and add Widgets. These are the individual parts of an application that your prospects must complete. You can make your own, or choose one of the pre-made Complex Widgets from the dropdown list.
After all your steps and widgets are added, click Save, and your new Form will be complete. You can now add this Form to a Position Opening.